Open Top Containers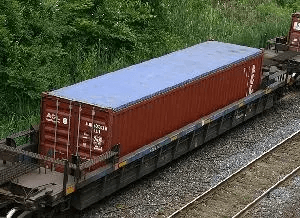 Open Top Container in transit
Open Top Containers bring a fun element to shipping container housing. Who doesn't love the idea of an open-air enclosed patio, a rooftop garden or a foyer area with super-high ceilings? Any of those features are possible in a container home if you incorporate open shipping containers.
Open tops, as they are often called, are specialized containers that feature an open top. While they were originally designed for easy transporting of items that would be tough to load into a traditional container, the popularity of container housing and construction have elevated them to a creative addition for container homes and other structures.
---
The adoption of the open top crate as a component of shipping crate home construction has been slow, but more and more enthusiasts are coming up with unique ways to enhance their projects with the open rack container.
Open Top Container Construction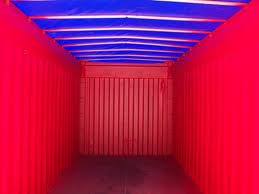 Open top container interior
Like the traditional shipping containers for dry goods, open tops feature four upright, steel walls and a built-in, wood floor. Instead of the traditional hard roof, however, the roof of an open top shipping crate consists of removable bows that can be covered with tarpaulin or canvas.  
The door opening features a swinging header and two removable hinged doors, coupling the crate's open top with an open end if desired.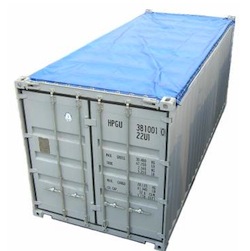 Other Specialized Container Construction
Another specialized shipping crate that offers creative possibilities is the open rack container, which feature end walls but no side walls. The end walls are either fixed or collapsible, with the most advanced side rack boxes featuring end walls that fold flat against the base. Open side containers open along one of the long sides, making access to certain types of cargo much easier for shippers.
Creative Open Top Container Uses
Some of the more amazing examples of the open top in action include their use as open-air environments that provide privacy around the sides and fresh air through the top. The rooftop garden and open-top patio are prime examples, as are outdoor areas cafés, coffee shops and mini markets. An open-air gym could ideally be housed in an open top crate, as could an enclosed play area for children or pets.  Open racks and open sides are also ideal for open walled environments that require a roof, such as a pool cabana.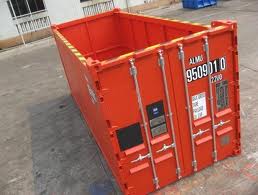 Using an open top as a base allows you to build up the side walls to extreme heights, creating an impressive entryway, an airy workshop or adequate room for a staircase leading to upper floors.

Creative Uses for Other Specialized Containers
| | |
| --- | --- |
| Balconies and open porches are prime examples of creative uses for open rack crates, giving you a ready-made, stable platform. They may also be used within storage crate homes and buildings to add floor space to create an open layout without the need to remove or alter any existing walls. Depending on the use and requirements of the project, open side boxes can be an ideal solution for your project's creative needs. | Open Rack Container |
Open Top Container Dimensions
Open top container dimensions adhere to those established by the International Standards Organization, or ISO. You can find open top cargo crates in the standard lengths of 20 feet and 40 feet.  
20' Open Top Container 
Capacity: 1,164 cu. ft.

·       Internal length: 19' 2"

·       Internal width: 7' 6"

·       Internal height: 7'6"

·       Height under top rail: 7' 3"

 

·       External length: 19' 10"

·       External width: 8'

·       External height: 8' 6"

 

·       Door opening width: 7' 6"

·       Door opening height: 7' 4"
40' Open Top Container
Capacity: 2,260 cu. ft.

·       Internal length: 39' 1"

·       Internal width: 7' 6"

·       Internal height: 7' 8"

·       Height under top rail: 6' 5"

 

·       External length: 40'

·       External width: 8'

·       External height: 8' 6"

 

·       Door opening width: 7' 6"

·       Door opening height: 7' 4"

Standards for ISO additionally ensure the crates are built as permanent units that are strong enough for repeated use. While the repeated use initially meant shipping, the playing field for uses has since become wide open.
History of the Open Container
The earliest open top shipping boxes showed up in Denmark, purposely designed to carry particularly heavy, oversized item or bulk cargo items. Prime examples include coal, steel pellets, sand and grain. The open roof made it much easier to load and unload oversized, bulky, awkward cargo using a crane or crab, especially when the containers featured an outward-swiveling door header and removable hinged doors.
Open rack containers and open side containers are also ideal for large, tall, bulky objects that don't fit or load easily into traditional containers. Because the removable bows in the open top cargo boxes contribute to the container's stability, it's typically safer to use open rack shipping crates for hauling massive equipment or other cargo that will interfere with the open top container bow placement.
Open Top Container Popularity
| | |
| --- | --- |
| While it's tough to pinpoint the current sales or use of open top boxes in particular, shipping containers in general are continuing to grow in popularity for uses far beyond shipping cargo. Container homes and entire container communities continue to pop up around the globe, while restaurants, hunting cabins, art galleries, container sheds, workshops, retail stores and other businesses are likewise following the trend of using versatile, durable and eco-friendly containers as their foundation. | Open Side Container |
Home

»
Open Top Containers