Container Housing Companies
Container housing companies can be a good option for many people looking to build shipping container homes. There are many reasons prospective buyers of sea container homes may want to consider using an established container construction company.
One of the biggest advantages to using container home builders is the added level of convenience. Building with shipping containers is not as simple as it may seem at first blush. On top of the added complexities of using shipping containers in construction, you could encounter jurisdictional red tape as a result of trying to build conex box houses in an area where the permitting and approval authorities are unfamiliar with container construction. Reputable companies experienced with ISO containers not only have technical expertise when it comes to the building process but many will also have experience shepherding your project through permitting and approvals.
Building Storage Container Houses
Building storage container houses is not easy if you are not experienced, just as it is with traditional housing construction. If you are looking to build shipping container cabins or a shipping container workshop, the DIY route might be a good way to go as these projects are not as complicated as a home, they typically require only one container, and they are not designed to be lived in but rather are for occasional use. Additionally, smaller projects like a shipping container workshop can provide educational experiences needed for eventually building complete houses.
However, some auxiliary structures might not be good projects to learn on before starting your DIY container house.  For instance, a shipping container bunker would not be a good project to start with. A shipping container bunker would have a level of complexity that would make taking it on as a DIY project daunting. This is primarily because most bunkers are underground or partially buried. So it is important to consider the type of structure if you go the DIY route.
Additional Benefits with Using a Company
If you are looking to build your own container dream home, there are some additional benefits to using home builders that work with containers and reasons to consider using them.
Luxury Container Homes
Looking to go upscale with your container home? Container contractors can streamline the process, help with plans and designs, and if they are on top of their game, anticipate issues that can come with luxury container homes. The more components there are to a project, the more opportunity for complications and issues.  Several companies have experience building with steel containers for the luxury home market.
Prefabricated Container Homes
Even if you hire a seasoned, well respected cargo housing company with experience, you will still be involved in the process of building a home. Ask anyone who has ever built a custom home using a homebuilder and they'll likely tell you that even with a builder overseeing it, the project took a lot of time and thought. Every little decision about the look and feel of your home needs to be dealt with by the owners even if a seasoned builder is constructing the home.
Looking for a simpler process? Try prefabricated container homes. Many of the hassles and decisions associated with homes built out of shipping containers are removed as the home is already built. With a prefabricated container home the buyer typically has options on the trim and fixtures, but the process is quicker and requires less time than building a custom container house.
Shipping Container Floor Plans
One added benefit to using a homebuilding company is access to shipping container floor plans. Many builders will have plans on hand for customers to look at. These container house plans can serve as the actual blueprint for your container home, or they can be a great source of inspiration and help guide you through the process of settling on floor plans for your new dwelling.
Using shipping container floor plans that a builder is familiar with can have another benefit. If the construction company has built a specific house a few times, using the same plans and materials (in this case containers), odds are the builder and employed staff & tradesmen are going to be able to anticipate most of the issues that could come up.  Building near-identical houses for multiple customers lends a level of expertise.
Container Home Kits
Container home kits are one option for the DIY cargo house enthusiast who does not have experience building with shipping containers. In the same way that building a bookcase from a kit is easier that building one from scratch, container home kits can provide guidance and instruction while allowing the DIY enthusiast to do most of the work.
Shipping Container Construction Companies
Choosing shipping container construction companies can take time and investigation. Here are a few noteworthy companies that provide varying levels of service, from design and planning to full on prefabricated container homes.
Addis Containers is a shipping container house design and construction company from New Zealand.

They have several designs that can be modified according to your needs.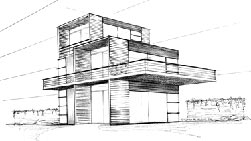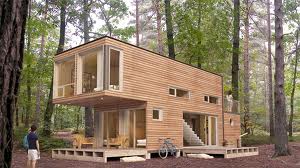 Meka World's Hela 1280
MEKA World - a good example of a container housing company.
MEKA not only builds attractive container homes but also larger multifamily projects. On the container home side, their projects range from a 320 square foot home to a 1920 square foot residence. 
The model pictured here, the HELA 1280, is a 1280 square foot 2 bedroom 2 bath home.

Adam Kalkin is an architect who also has several shipping container projects:
1. The Quick House is a prefabricated kit house designed from recycled shipping containers and is distributed by Kalkin & Co. It has three bedrooms and two and one-half baths in its 2,000 square foot plan. They also offer 1,000, 3,000 and 5,000 square foot models. It comes with a handy booklet and they can build it for you.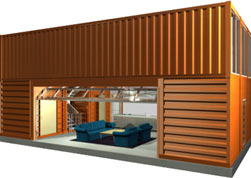 2. The $99,000 House. The $99,000 house comes with a prefab steel structure as well as modified shipping containers, although it isn't made exclusively out of containers, it shows how containers can be combined with other forms of construction to create unique and desirable living spaces.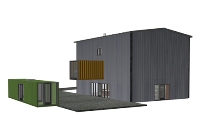 $99,000 Container House
Another company worth looking at is Logical Homes. They've developed some incredible homes using containers as some of the main building blocks. All of their designs are impressive, and some are downright incredible.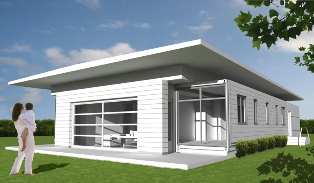 Seto 1960 from Logical Homes
This is their SETO 1960 model, with three bedrooms, 2.5 baths and 1960 sf of interior space.

Home

»
Container Housing