Insulated Shipping Containers
As discussed in the article about intermodal containers, there are several types of insulated shipping containers that serve the purpose of storing and transporting various goods. The nature of the cargo dictates the choice of what kind of container one should use.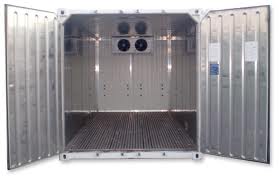 Therefore, for products that are sensitive to temperature (food, chemical substances and pharmaceuticals) insulated shipping containers are recommended. Maintaining freshness and the efficacy of the stored products is their main purpose.
The material used to build such containers results from combining the following elements:
- a vacuum recipient (with similar properties as those of a thermos)- liners (fabricated thermal layers)- styrofoam (molded expanded polysterene foam that acts as a cooler)- polyurethane- polyethylene- thin sheets - covers of foamed plastics- reflective materials (metalized films that disperse light thus diminishing the heating process),- bubble wrap or other panels filled with air,- other packaging materials and structures.
While some insulated containers can be used just once, others are reusable. Once the goods are unloaded, the containers are dismantled and sent to the shipper, who re-assembles and uses them again.
The disassembling facilitates the return of the containers.
Insulated shipping containers are integrated in a more extensive, all-encompassing system that aims at monitoring and manipulating temperature of the freight during the complete distribution circuit. Within the insulated container, a refrigerant or coolant is used that varies from:
- simple dry ice,
- gel packs with specific formulas corresponding to particular temperatures that help distribute heat in order to reach the appropriate temperature.
This type of container has to be equipped with a temperature data logger. It indicates time and temperature, surveying it for the entire cargo.
Here are the issues that need to be considered when using an insulated container: to what temperature values is the product sensitive, the expected time and temperatures during shipping, the regulatory requirements, the particular components of the container that best fit the type of product.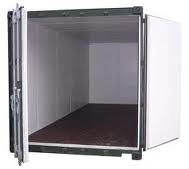 When evaluating what elements need to be used in assembling the container, two important characteristics have to be met: the insulation properties of the materials (named K Value) and the their thickness. Depending on these attributes, the functionality of the components is ensured.
One should also consider to what extent is the container prone to latent heat after being assembled. In some cases, although each component was assessed and passed the test of insulation, it may be possible that the container, as a whole, to be a source of heating itself. Therefore, the container must undergo a test to make sure the heat produced by the functioning components does not affect the freight.
For a thorough verification, the help of specialists is recommended and sometimes, explicitly required. Some of the tests conducted in laboratories include ASTM D3103-07, Standard Test Method for Thermal Insulation Performance of Packages, ISTA Guide 5B.