Container Overseas Shipping: The Heart of Modern Day Commerce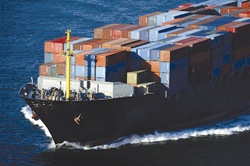 Container Cargo.
Container overseas shipping developed after World War II, when America's shipping industry was in shambles. German subs had closed down the sea lanes and cargo handling costs at the nation's seaports was expensive and labor-intensive.
When Malcom McLean bought Pan-Atlantic 1955 he had a vision of marrying the trucking business to international shipping. 

He knew that standardized containers would be the key to bringing efficiency into shipping world-wide. Goods would need to move from land to sea without changing containers. To prevent theft and damage from the elements, the containers would have to be weatherproof and secure. They would have to be just the optimal size to fit snuggly onboard ship and then be transferred seamlessly to trucks and rails.

McLean commissioned an engineer named Keith Tantlinger to create the containers, engineer the fittings that would make them work interchangeably in container overseas shipping, and on land transport, and then to argue the case for standardization before the various standards-making organizations. It was a huge job that Tantlinger completed with astonishing success.
In 1956 Tantlinger outfitted a refurbished a T-2 Tanker, the Ideal-X, with 58- 30 foot containers, 1 loaded every 7 minutes, at the Port of Newark bound for Houston. The success of that shipment set the stage for container shipping industry. By1958 Pan Atlantic was moving freight back and forth from Puerto Rico to mainland ports. Meanwhile, Matson Navigation Company was following a similar path to use container overseas shipping between California ports and Hawaii. By 1965 the demand for shipments to and from Europe became great enough to require overseas shipping by containers between Port Elizabeth, New Jersey and North Atlantic destinations in Europe. Port Elizabeth was the first seaport to be designed specifically for containerized shipping. Because of their adaptation to more efficient containerization New Jersey ports eclipsed the New York Port Authority in international shipping for many years.

When automation was finally negotiated into the longshoremen's labor contracts in the mid-60s at ports on both coasts, the door was open and the enormous economic boost that international commerce would bring to the economy. The standardization that followed internationally between 1961 and 1970 created the final step needed to make world-wide shipping a seamless task.
The first trans-Atlantic container service began operation in 1966 when Moore-McCormack Lines carried a load of mixed freight to Scandinavia. Sea-Land began weekly shipping operations the same year between Newark and Baltimore and Rotterdam.
The Vietnam War made a huge difference in west coast shipping as regular transport began in 1965 using military cargo requirements. By 1966 Japan had embraced containerization and that became a highly lucrative and competitive business between Japan and the U.S. west coast. The Philippines became another major destination.
Today, of course, the gigantic market in China is the main source of consumer goods brought into the U.S. through container overseas shipping. International trade could never have reached its current heavy impact on world economy without containerization.
Home

»
Container Overseas Shipping