Ocean Container Carriers and Leasing Companies, the World's Containers Owners
The world's containers are primarily owned by two types of companies: ocean container carriers and container leasing companies. The leasing companies manufacture the steel box or purchase it from container manufacturers, and then lease it to shipping and transport companies. The shipping and transport companies own and operate approximately 33% of 20ft and 66% of 40 ft containers.
Figure: World Container Fleet 2000-2001 by Main Owner (thousands of TEUs)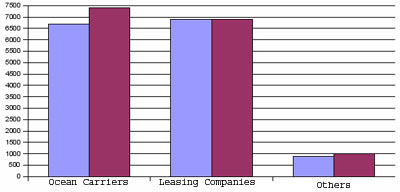 In mid-2001, ocean carriers owned approximately 7.4 million of the world's 15.1million TEUs deployed, while leasing companies owned approximately 6.8 million TEUs.
Between mid-2000 and mid-2001 the percentage of the world's TEUs owned by the ocean carriers increased from 47 percent to 49 percent. During the same time period the percentage of the world's TEUs owned by leasing companies has decreased from 48 percent to 45 percent. The rest of approximately six percent are owned by other companies, such as trucking companies and major shippers.

The top five ocean container carriers in terms of the number of TEUs deployed are:
Maersk is by far the largest container service operator, with approximately 700,000 TEUs deployed in 2001. The second largest operator, P&ONedloyd deployed approximately 380,000 TEUs.
The top five container leasing companies in terms of fleet holding are:
These five companies holds more than 50% of the total 2001 fleet. Transamerica Leasing and GESeaCo holds more than one million TEU each.
Competition among container lessors is influenced by lease rates, the availability and quality of equipment, and customer service.
---
Useful Resources
INTTRA - one of the ocean container carriers offering simplicity, standards and visibility within the supply chain.

Home

»
Shipping Containers

»
Ocean Container Carriers