Container chassis
Container chassis: Shipping container volumes are growing with unprecedented increase in foreign trade. Domestic use of containers is also increasing. One of the most important aspects in this matter is the container chassis. A chassis consists in a number of components: a frame, wheels, axles, suspension system, braking system and safety appliances. Shipping containers are usually owned by the ship lines, but are handled and transported by other entities, such as seaports.
The major problem regarding the chassis is using them in conformance with the requirements and the accepted industry standards. The chassis often spend a lot of time in the hands of third parties and this aspect supports the fear that maintenance and inspection are inadequate, that chassis will not receive proper maintenance attention, since the entity using it does not own it. On the other hand, owners may be tempted to minimize the investment both in initial cost and in maintenance.
It is essential to examine and quantify the safety problems regarding chassis used for transporting shipping containers over highways. Rule-making was proposed at the federal level, and a number of states have adopted laws regarding this matter. There have been made little formal studies based on realistic data of chassis defects and crash experiences. One of the most important purposes is to determine if actual problems are similar to perceived problems.
There are no regular maintenance programs for chassis, and for that matter, data on common chassis defects are lacking.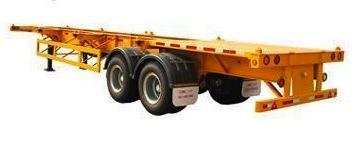 There is a real need to obtain more factual information based on statistical analysis regarding defects commonly found with chassis used for container movement.

Container chassis are available in 20-foot, 40-foot, 45-foot, and 48-foot lengths. Most chassis use tube-type, nylon reinforced tires, while normal semi-trailers have steel reinforced, tubeless radial tires. Semi-trailer chassis are widely used as means for transporting containers. During use, a semi-trailer chassis can be hauled by a trailer vehicle, and a container can be fixed on the semi-trailer chassis. There are different types of chassis, as Flushback Tandem Axle, Goosenecks, Extendable, Tank Chassis, Combo Chassis, Sliding Tandem Axle, Triaxle Chassis, etc.
This chassis was specifically designed with a lower deck. Containers experienced a great risk of accidents because of their heavy contents. The drop frame of the chassis has a lower center of gravity to prevent this phenomenon. The chassis provides a secure mechanism and eliminates the necessity of chains or straps. This chassis is the only safe and legal way to transport all the bulk liquids.
Home

»
20 Foot Shipping Container

»
Container chassis