China Shipping Container Tracking
In order to understand how China shipping container tracking works, first you must grab a few basic concepts.
Shipping container cargo may be tracked basically by 3 parameters:
A. By bill of landing
You need to enter the numeric part of your APL bill of landing. That will be a number of 7 or 9 digits. By adding a homeport ID you may get more details about the shipment.
Here's a list of top ten Chinese sea port codes:

HKHKG - Hong Kong
CNSHA - Shanghai
CNCAN - Guangzhou
CNSZX - Shenzhen
CNNGB - Ningbo
CNTAO - Qingdao
CNLYG - Lianyungang
CNTSN - Tianjin
CNXMN - Xiamen
CNDLC - Dalian
For China shipping container tracking in other ports, you can find the codes here.

B. By vessel
You can track your chinese shipping container cargo by tracking the vessel it is on. You'll need the boat name (or at least part of it) and also the homeport ID. You'll get schedule for the next 10 stops as well as details about the vessel: age, size, country, owner etc.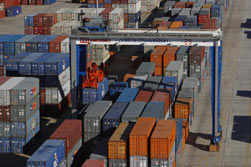 ACL
Alianca
ANL
APL
Arkas
Atlanticargo
Balaji Shipping
Beacon Intermodal
Blue Sky
Bridgehead
CAI
Carlisle Leasing
CCNI
CMA CGM
CNC Line
COSCO
Cronos
Crowley
CSAV NORASIA
DAL
Delmas
Dong Fang International Investment
Dongnama
Emirates Shipping Line
EVERGREEN
Florens container services
GESeaCo
GOLD
Gold Star Line
Grimaldi
GVC
Hamburg Sud
Hanjin Shipping
HAPAG (HL)
Heung-A Shipping
HYUNDAI
IRISL
ITALIA MARITTIMA
K-LINE
Korea Marine Transport
Libra
Linea Messina
MAERSK
MAG shipping
Marfret
Matson
MOL
MSC
Namsung
NSCSA
NYK Line
OOCL
OTAL
Pacific Direct Line
PIL
Pollux & Castor
RCL
Royal Arctic
Safmarine
SCI
Seaboard Marine
SeaCastle Inc, (Interpool)
Sea Star Line
SENATOR LINES
Sinokor Merchant Marine
SITC
Sofrana Unilines
Star Shipping
TAL International
Tarros
Textainer
Triton Container
UES
United Arab Shipping
Wan Hai Lines
Waterfront Container
YANG MING YML
ZIM
More about shipping container tracking >>

C. By container
China shipping container tracking by container requires the respective container number. A standard container number is made of a 4 letters code designating the company that owns the container (not always the one that transport it), a 6 digits number (the serial) and 1 digit (checkdigit, used to avoid mistypes). For example, UDVB 102030 9. If you enter also the homeport ID, you'll usually get more details.
China shipping container tracking gets a little trickier if the container owner is a leasing company since they usually don't do the shipping themselves. In this case you should first check the leasing company website and find the transport company for the shipping container in case. Once you had found it, you should search for your container using the transporter's name.
Home

»
Shipping Container

»
China Shipping Container Tracking